Everyone wants to have interconnectivity in their workplaces. Nothing seems more flawless than all your enterprise apps, content, data, and information is seamlessly interconnected. And the most crowning achievement is a robust integrated searching platform that quickly finds any enterprise-related data with no need to shuffle through different apps. Something that offers enterprise search capabilities to the business.  
Well, Microsoft has already made a solution for you, Microsoft Search. It can help you find what you need to finish a project. Whether you're looking for people, files, org charts, websites, or answers to frequent questions, you can use Microsoft Search to find them. 

You can have search feature in the Microsoft apps mentioned in this picture.
Microsoft Search, An All-Rounder Search Solution for Modern Enterprises
You've probably heard of Bing and Google, two of the most popular search engines. However, if you are a member of an enterprise or business with an Office 365 subscription, you may have heard of Microsoft Search.
Even if you haven't heard of it, Microsoft recently cited it as a reason for making Bing the default search engine for Chrome users with Office 365 ProPlus (renamed to Microsoft 365 Apps for Enterprise).
So, exactly what is Microsoft Search?
In this guide, we'll understand Microsoft Search and explain why it's so crucial.
Let's get started!
What is Microsoft Search?
Microsoft Search is a novel, unified search experience that works across Windows 10, Office 365 apps and the Microsoft Bing search engine. Announced in September 2018, it reached General Availability in May 2019 for all users of Office and Microsoft 365.
By leveraging Artificial Intelligence, Microsoft Search reads plain language to make search more effective by placing all the documents, people, actions, and answers in an organization and on the internet accessible in one location: the Search bar. This way, it enables a corporate level enterprise search facility to your widespread business. 
Microsoft Search also recommends results based on your previous Office 365 activity and whatever is trending within your organization. It's very personalized and customized, especially if you use the Microsoft 365 solutions in your workplace or enterprise, as we'll discuss further.
How Does Microsoft Search Operate and How Can You Use It?
In terms of how Microsoft Search works, you can use it from within Office 365 web apps via the search box in the header bar, or even from Bing. Both will provide a comparable experience, and the conclusions are backed by the Microsoft Graph to display results that are relevant to your own experience.
In practice, this means if you click the search box within Office 365 and enter your query, you'll gain results based on your earlier Office 365 activities. You get results tailored to the Office 365 app you're currently using.
For example, it could be a SharePoint file, a document you emailed in Outlook, or even a business-specific term or lingo you have earlier mentioned. As previously stated, Microsoft Search retrieves data from all Microsoft products, along with SharePoint, Microsoft OneDrive for Business, and Microsoft Exchange Server.
This is how Microsoft Search works in more technical terms, when a user searches, Microsoft Search processes the query and extracts search intent from larger phrases, employing Artificial Intelligence (AI) to learn common redundant phrases that users add to their queries that have no bearing on their search intent. When a user searches for "how to change my password," for instance, it extracts the low-importance words from the query and trigger them based on the relevant ones, such as "change password."
The search results page displays the search results that the user has permission to see. Microsoft Search orders result based on relevance using intelligent ranking algorithms.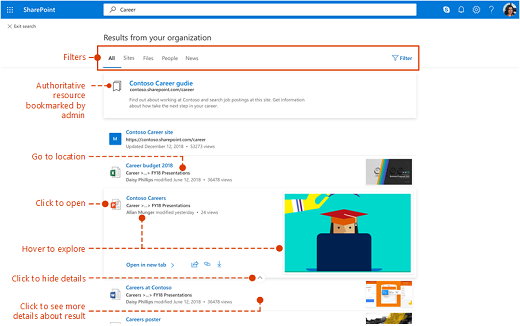 As shown in this picture, you just have to write the search terms in the search box and here you go!
Search Within Microsoft Bing
Once you've signed in with your Office 365 account, Microsoft Search also works in Bing. You can use the Bing search box to find the same content that the Office 365 search box does. The results will appear at the top of the standard public search results.
What Makes Microsoft Search So Valuable, And What Are Its Advantages?
So, what is the impact of Microsoft Search? It all boils down to one thing. Unlike Bing or Google (public search engines), Microsoft Search can index your internal Office 365 files and help you find what you've been working on across all of Microsoft's products.
It allows you to search across Microsoft 365 from any search box and return to your work. It's simple to use and makes it easy to find shared files and relevant content. It's enabled by default. IT administrators can even tweak Microsoft Search to display more relevant content, and external content, and customize the user experience
Customizing Microsoft Search for your Business
As an administrator, you can provide your users with a fantastic Microsoft Search experience.
Display relevant content – Answers respond quickly and authoritatively to keyword-based search queries.
Add external content – You can add external content to the index using Microsoft Graph Connectors. Connectors can be used to enrich the search experience with data and files from sources other than Microsoft 365.
Customize the user experience – Verticals and other configurations can be used to customize the user experience.
What Information is Searched?
Microsoft Search displays content that your organization has stored in Microsoft 365 or that has been indexed via connectors. Microsoft Search does not search across tenants and does not display results from content shared by other organizations.
If your organization has configured a hybrid SharePoint environment with cloud hybrid search, Microsoft Search returns search results from both online and on-premises SharePoint content, as well as any external content that has been connected to your SharePoint Server environment.
Take Your Enterprise Search To The Fullest With Microsoft Search Feature
Microsoft Search has enormous time-saving potential because users will no longer have to switch between Office apps to find the documents, actions, or information they seek. Users can use plain English in the search bar to find information across their entire organization and even the web, rather than trying to remember where a specific command is or searching through a large file list to find the document they need. When no internal instructions are displayed on Microsoft Search, users can ask a question in the Search bar to get top Bing answers, allowing the robust enterprise search availability. 
We follow rigorous Microsoft development standards and time-tested processes, enabling smooth access to virtually any type of database. Al Rafay Consulting delivers clear Microsoft 365 solutions, whether for design, development, or testing, to give our clients a genuine competitive business advantage.