Microsoft continues to amaze the world with its achievements in the software industry. With hundreds of products and services generating revenue of US$364.8 billion, it has become a constant leader in digital transformations. 
In 2021, Microsoft has been recognized as a Leader in Gartner's 2021 Magic Quadrant for Enterprise Low Code Application Platforms report for the third time in a row.
In 2022, Microsoft has been crowned a Magic Quadrant Leader in analytics and business intelligence platforms once more by Gartner. Microsoft is again ranked farthest for the fourth consecutive year.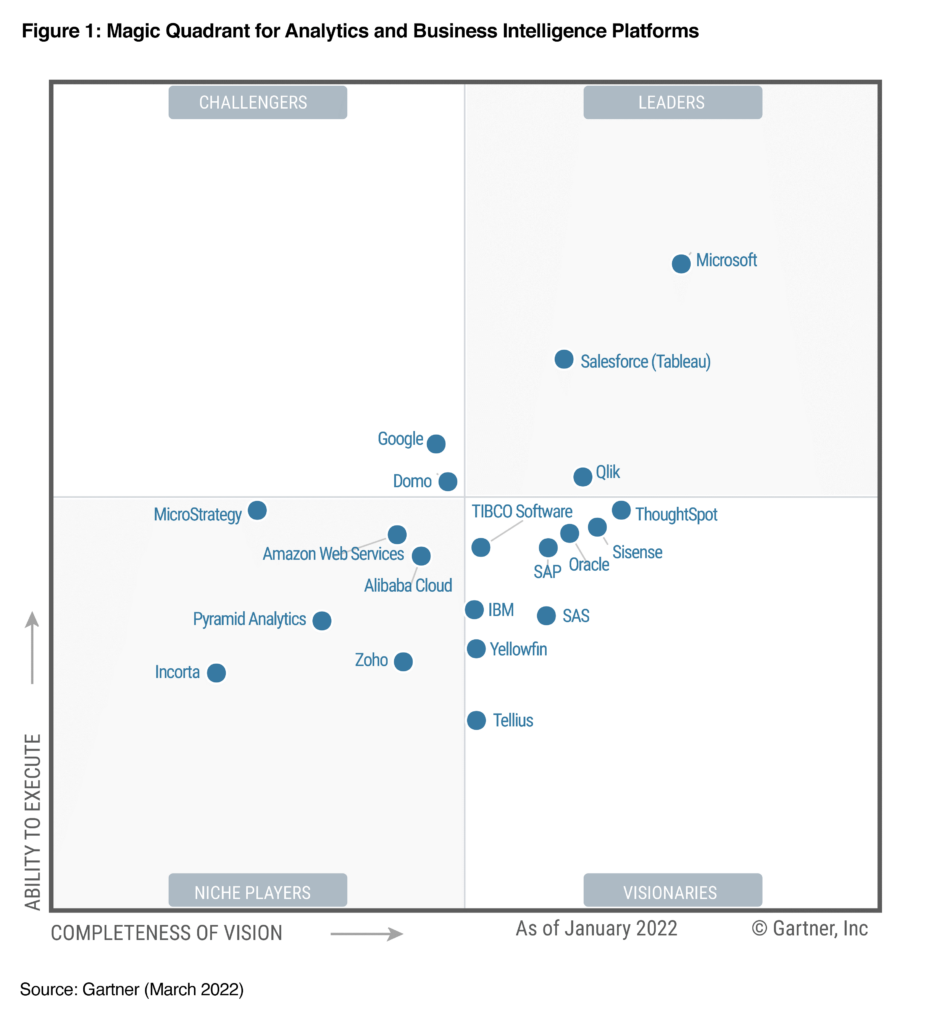 Microsoft Power Platform-One of the leading Services by Microsoft
The Microsoft Power Platform is a collection of business intelligence, app development, and app connection software programs. Their primary objective is to optimize routine company operations and processes by analyzing data, creating customized dashboards, creating applications, acting on generated insights, and automating procedures with a minimum of in-depth technical knowledge.
Power platform has been delivering outstanding services to businesses to automate business processes from the most complex to small-scale operations. and now a new addition to the power platform family Microsoft Power Pages. Power platform has been delivering outstanding services to businesses to automate business processes from the most complex to small-scale operations.
It is a power pack of business solutions, including four dynamic software services and now a new addition to the power platform family has come as Microsoft Power Pages. 
Five main services make up the power-pack of Microsoft Power Platform
Power BI: A business analytics tool focusing on data analysis, hidden insights, interactive data
visualizations, and tying together data sources.
Power Automate: Service designed to increase productivity through organizational process automation, workflow
simplification, and artificial intelligence-enhanced workflows.
PowerApps: A service that offers a variety of apps, services, data connections, and platforms that make
it simple and quick to create custom apps with minimal effort and low code.
Power Virtual Agents: A no-code graphical interface allows to quickly build intelligent bots. With its AI-powered features, automate routine queries and deliver personalized chat bots to customers.
Microsoft Power Pages: a low-code, secure, enterprise-grade SaaS platform for building, hosting, and managing contemporary external-facing enterprise websites, whether you're a low-code creator or a professional developer.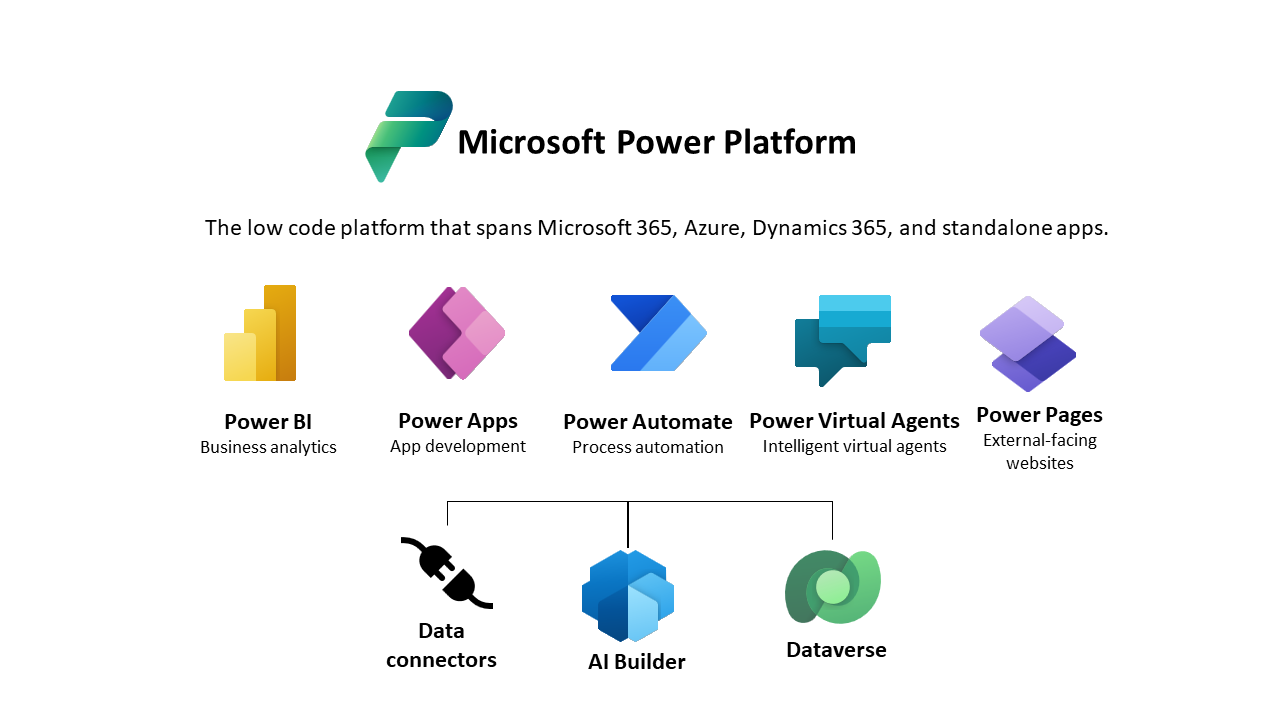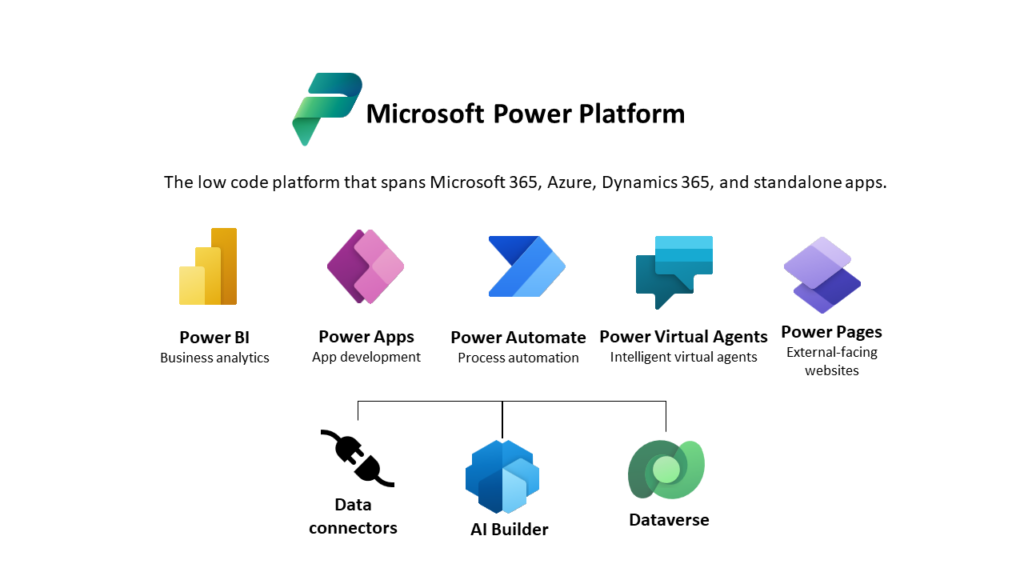 Top 5 benefits of Power Platform
Bring all your business operations together on a centralized platform
In the digital age, data is everything, thus it is essential to ensure that all your data is correct and readily available to avoid departmental silos and process obstacles. 
You may combine all your Office365 applications with additional external data sources using Microsoft Power Platform's end-to-end capabilities to provide seamless administration of enterprise data. It provides you with a complete 360-degree view of everything occurring within your project portfolio.
Enriches data value and accuracy
Microsoft PowerApps makes it possible for businesses to create bespoke applications that let them create form fields that are tailored to their requirements. No matter the external data source or application, we ensure that data flows smoothly with the aid of Power Automate. However, acquiring and using data is just the beginning. The ability to draw insightful conclusions from data and take data-based activities in response is what gives data its true value. Power BI quickly creates all those crucial visualizations so that businesses don't overlook chances within their initiatives.
Simplify complex processes and boost overall enterprise productivity
Say goodbye to manual updating, repetitive operations, and paper-based procedures with the Power Platform. Power Automate makes it possible to digitize and automate tedious processes, freeing up your team's time to concentrate on project-related activities that genuinely bring value.
Power Automate can automate manual tasks and processes to save time for more value-added activities. Power Automate can automate the following everyday routine tasks:
Document and process approval
Document generation 
Alerts and notifications 
Make remote work and collaboration available
Power Platform manages complete web and mobile application integration, and cloud-based platforms provide easy remote team collaboration.
A platform that syncs calendars and helpfully presents tasks is essential for keeping employees on schedule wherever they finish their work as the demand for flexibility with remote workforces grows. By designing workflows that allow people to perform more efficiently, you may reduce resource expenses for your company.
Systemize reporting and analytics
The most troublesome task is getting accurate reporting and analytics to measure business performance. And obviously, business owners and managers don't have enough time to calculate all these details manually. According to research, project managers compile project reports yearly for at least one day. Power BI allows quick and easy generation of all required reporting, visualization, and dashboards. Furthermore, after all, operations are consolidated onto the Microsoft platform, reports can be filtered to account for the precise input fields or requirements your team would require.
Ready to get started with Microsoft Power Platform
Take the greatest value out your data through the Microsoft Power Platform, a phenomenal set of business automation services. It gives your organization's tech and non-tech people a potent way to examine data, act on recently discovered insights, deliver personalization, and automate business procedures.
It's time to extract great value from your business and enhance data management procedures. To proceed, contact the Power Platform experts at Al Rafay Consulting