There's a lot to be said about consistency in product names, but when you have lots of products, each with multiple versions, similar names can quickly become confusing. Here, we\'re talking about Microsoft.
A few years back, Microsoft introduced Microsoft 365, a business-oriented bundle of existing products sold under a single license. The name is similar to Office 365, one of the services provided by Microsoft 365. In fact, many people have already mistakenly referred to Office 365 as Microsoft 365.
Microsoft 365 is the most recent product to be released as part of Microsoft's Cloud offering. The only issue is that many people think of Microsoft 365 and confuse it with Microsoft Office 365. Many people believe it is the same thing.
The new offering is a service bundle that includes Office 365, Windows 10, and Enterprise Mobility + Security (EM+S). Instead of just paying for Office 365, you also get your operating system and security tools.
In this blog, we'd like to explain the differences between Office 365 and Microsoft 365, as well as how they work. We'll look at what each product is, the various pricing options, and which is most beneficial to your organization. Learn which is better for your business when it comes to Microsoft 365 vs. Office 365.
What Exactly is office 365?
Office 365 is your email and Office suite delivered as a subscription-based cloud service. Office 365 has many iterations because you can choose different plans based on your needs.
In other words,
Microsoft Office 2021 (Office 16's third continual release) is a version of the Microsoft Office package of applications for the Microsoft Windows and macOS operating systems. It is the successor to Office 2019 and was launched alongside Windows 11 on October 5, 2021.
For example, the Exchange Online plan simply replaces your on-premises Exchange server with a Cloud option. To have your email hosted in the Cloud, you pay a small monthly fee per user.
If you want the Office applications in addition to your email, you can subscribe to a plan like Business Premium, which includes your email as well as the Office suite. Office applications are always up to date, so you never have to worry about compatibility or upgrades.
Office 2021 is a one-time purchase, which means you pay a single, one-time fee to get Office apps for one computer. For both PCs and Macs, one-time purchases are available. There are no upgrade options, so you'll have to pay full price if you want to upgrade toward the next major release.
Office for the web is a free version of Microsoft Office that can be accessed through a web browser. All you have to do is create a Microsoft account using a new or existing email address. For web apps, try the Office suite.
If you want a more in-depth understanding of what you get with Office 365, we have a blog dedicated to it that can assist you.
Office 365 includes:
Microsoft Apps, including Word, Excel, PowerPoint, OneNote, Publisher, Access, Outlook, Exchange, Teams, SharePoint, Yammer, Stream, Sway, PowerApps, Power Automate, Power Virtual Agents, Planner, Forms and etc.
Want to know more about what you can have in Office 365?
Microsoft itself has meticulously defined the inclusion of Office 365 features with their prices which you can see here.
And you can find the pricing plan for Office 365 for Enterprise here.
What exactly is Microsoft 365?
Let's start by clarifying what Microsoft 365 is before we compare the two. It's essentially a pack with a couple of Microsoft products. What is included varies depending on the version and plan you select, but in general, the following items are comprised:
Office 365 (Business Premium or Enterprise F1, E3 or E5)
Office 365 Advanced Threat Protection (E5 only)
Microsoft Intune
Microsoft Advanced Threat Analytics
Identity and Threat Protection
Information Protection and Compliance
Azure Active Directory
Azure Information Protection
Azure Advanced Threat Protection
Windows 10 Pro Upgrade or Windows 10 Enterprise
As you can see, Microsoft 365 is more than just Windows 10 and Office 365. Another advantage is that the Microsoft 365 Admin Center allows you to manage all of your devices and security settings from the cloud.
Because Microsoft 365 is a collection of services that Microsoft offers separately, it's best to break it down into three parts.
Office 365, Windows 10, and Enterprise Mobility + Security comprise Microsoft 365. Microsoft's most recent operating system is Windows 10. It's billed as the "safest Windows ever," including BitLocker and Windows Defender Anti-Virus. You also get Cortana, Microsoft's digital assistant, and the new Microsoft Edge browser.
Enterprise Mobility + Security is a collection of mobility and security tools that provide additional layers of data protection. Identity management and mobile device management are among the tools provided by the suite. It makes it a lot easier to manage both personal and work devices in order to protect corporate data while on the road.
Multi-factor authentication and rights management can be added to your Office 365 account to make sure identities are accessing documents when they are distributed.
What clearly is the difference between Office 365 and Microsoft 365?
The simplest reason to describe the difference is that Office 365 is a component of Microsoft 365, and the latter includes security tools and your operating system. With this explanation, it is difficult to get a complete picture of the products and benefits of Microsoft 365 solutions.
We'll look at two specific plans to fully explain what you get with each product: Office 365 Business Premium and Microsoft 365 Business.
As previously stated, there are a number of different Office 365 plans available. Business Premium is the option that most businesses with fewer than 300 users choose because it includes email and the full Office suite. If you have more than 300 users, you must select the Enterprise plan.
Microsoft 365 has two plans available: Microsoft 365 Business and Microsoft 365 Enterprise. The Enterprise plan includes some optional features such as PSTN conferencing and Legal Hold. One is suitable for small businesses, while the other is suitable for large enterprises, as the names suggest. The maximum number of users is 300 once more.
Office 365, included in Microsoft 365
Microsoft 365 is available in a variety of plans, and beginning April 21, 2020, the Office 365 business plans has been renamed Microsoft 365. So, we now have a much larger selection of Microsoft 365 plans to choose among.
The "old" Office 365 business is included in Microsoft 365 Business plans. Office 365 is included in the Enterprise plans. So, you get the same apps and services with Microsoft Enterprise E3 as you do with Office 365 Enterprise E3 (with the addition of Windows 10 Enterprise and the security products, of course)
Microsoft 365 involves everything you're familiar with from Office 365. With inventive Office apps, intelligent cloud services, and world-class security, Microsoft 365 is designed to help people and businesses achieve more.
So, the Office section is simple; there isn't much to compare there. But what about Windows 10's security features?
The Windows 10 license is the only difference between Microsoft 365 and Office 365. You get a Windows 10 Pro upgrade or a Windows 10 Enterprise (E3 or E5) license with Microsoft 365.
Microsoft 365 Business Premium
The Business Premium plan only includes an upgrade license for Windows 10 Pro. This simply means that you must have a valid Windows 7 or 8 license in order to upgrade. In my opinion, there is no real added value when compared to Office 365.
Because Windows 10 was released in 2015, nearly every computer already has a legitimate Windows 10 Pro OEM license. If you are still operating Properly 7, your hardware will most likely need to be replaced soon. As a result, the Windows 10 Pro upgrade license provides no real value.
The pricing plan for Microsoft 365 for Business: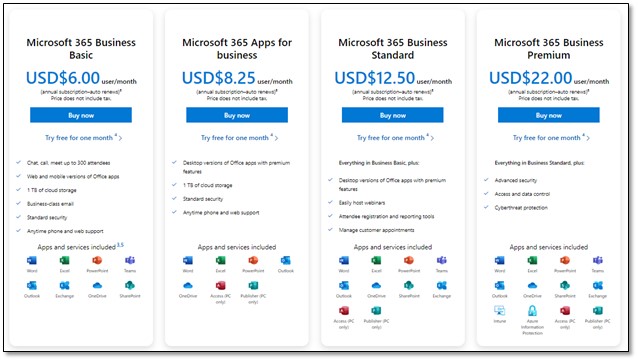 When it comes to Windows 10, the Enterprise plans are more interesting. A Windows 10 Enterprise E3 license is included with the M365 Enterprise F1 or E3 plan. (F1 is only available locally.) The E5 plan, of course, includes a Windows 10 Enterprise E5 license.
The features are the same, so the price is what makes it interesting. Microsoft 365 Enterprise prices are no longer listed. To obtain a quote, you must contact a Microsoft Partner, but there is an estimate of the cost.
The pricing for Microsoft 365 for Enterprise: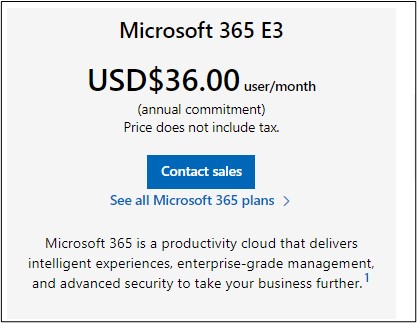 Device and Application Management
Microsoft 365 provides Device and Application Management, which is one of the tools available to safeguard and secure your organization's resources and data. This is the essence of Microsoft 365. Giving you the tools, you need in one place to keep your data safe.
You have some options for managing and protecting your data with Office 365 alone. We can use Exchange Online to wipe out lost mobile devices and create content policy rules and Data Loss Prevention policies in the Security and Compliance center. Yet, we can't manage the device itself.
Which should you buy: Microsoft 365 or Office 2021?
The decision is based on the Microsoft apps and services you require. If you intend to use Office for a long time, Microsoft 365 is by far the best option. This is because you will have full access to the apps and benefits with the subscription at a low cost of ownership.
It is common for people to mix up Office 365 and Microsoft 365. However, as we have seen in this blog, Office 365 and Microsoft 365 are not synonymous. Admins must understand what differentiates them, compare Office 365 vs. Microsoft 365, and spend smartly while purchasing subscription plans. So, identify your needs and stay one step ahead!
In case your require M365 implementation services, Al Rafay Consulting is right here to serve you with the best M365 support.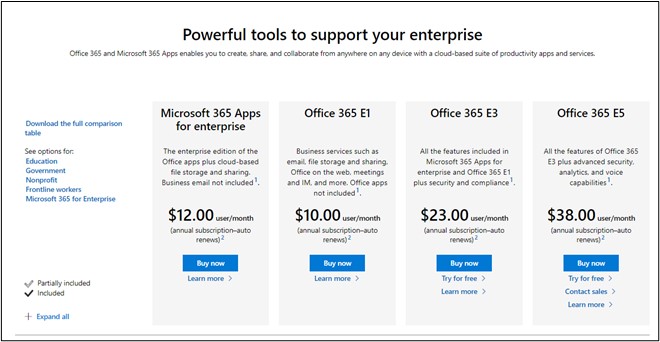 In case you require M365 implementation services, Al Rafay Consulting is right here to serve you with the best M365 support. 
Want to how we have leveraged M365 development platform to develop smart enterprise applications? Check out the modern deal tracking software by Al Rafay Consulting that is developed on the innovative platform of Microsoft 365.