Microsoft discontinued both the SharePoint Designer Workflows versions in 2010 and 2013. All the new tenants of SharePoint Online can not create new SharePoint Designer Workflows. Furthermore, while the existing SharePoint Workflows 2010 version has completely stopped working, the existing SharePoint Workflows 2013 will be in working condition, but not for long.
However, on-premise SharePoint Farms will support the creation and use of SharePoint Workflow 2010 and 2013 till 2026. So, if you're using the classic SharePoint intranet portals or SharePoint Online, take some quick steps to transform all the SharePoint custom workflows into a more suitable and easy-to-deploy automation service from Microsoft. It is Microsoft Power Automate.
Continue reading to learn more about Microsoft Power Automate, SharePoint Designer Workflows, and all about the transition.
What are SharePoint Designer workflows?
To streamline various business operations tasks you can author a pre-programmed sequence of events linking various parts of SharePoint that finally accomplish automatic tasks. These tasks usually include getting contract approvals, collecting signatures from clients, tracking project status, gathering task completion statuses, emailing documents, and collecting customer feedback.
Such automation of compatible tasks is known as SharePoint Workflows. You can access this feature from the SharePoint site Documents> Libraries> Workflow Settings> Create a Workflow. However, these steps may not be available if you get a new SharePoint Online site after November 2020.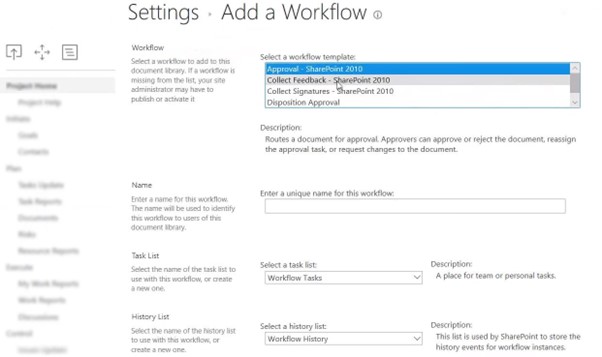 If you are running on-premise SharePoint sites or have created a SharePoint tenant before November 2020, you can still create SharePoint Workflows using the 2013 version. But, this may not be a good idea since Microsoft plans to stop support for SharePoint Workflows 2013 as well.
Regardless of this, the classic SharePoint Workflows come with the following built-in automation options:
Approval Workflow
Notification Workflow
Status Workflow
Collect Feedback Workflow
Collect Signatures Workflow
Publishing Approval Workflow
Three-state Workflow
Power Automate is a modern automation tool of Microsoft Power Platform. The other notable tools of Power Platforms are Power Apps, Power BI, Power Virtual Agents, and Microsoft Power Fx. All these tools empower business entities to achieve maximum productivity at a cost-effective rate by utilizing state-of-the-art digital technologies from Microsoft.
Power Automate can assist you to automate all the repetitive tasks that a business needs to handle. It does so by recording copy-paste steps, keystrokes on the keyboard, and mouse clicks. While Power Automate takes care of actions on business apps like SharePoint and Excel, you can invest your time in product or service improvement and marketing, thus increasing profitability.
Though Power Automate can perform numerous automation, here is a list that benefits your business:
Automatically remind employees about past due tasks.
Automate various business processes like creating service tickets, approving content publishing, signing contracts, etc.
Move or backup business files and data from one workstation to another on a scheduled date.
Connect to any publicly available API or 500+ data sources for process automation.
Automate Microsoft 365 solutions like SharePoint, Outlook, Power BI, OneNote (Business), etc.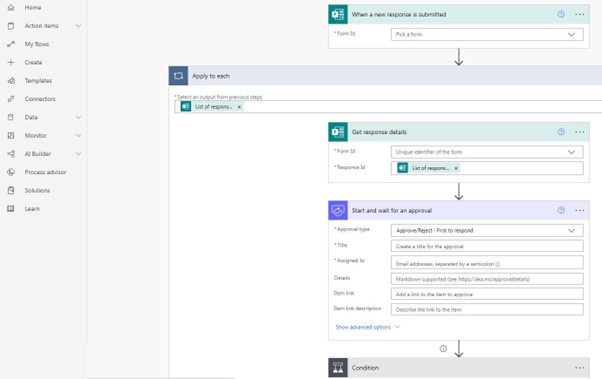 Power Automate can create better and more complex automation for SharePoint sites than SharePoint Workflows 2010 or 2013. For example:
Collect data from clients in Microsoft Forms, process it, and email to someone or store it in SharePoint document libraries.
Convert Word files to PDF in OneDrive and store them in SharePoint.
Based on metadata conditions, automatically move documents between SharePoint libraries.
Start dynamic and parallel approvals for contracts or documents in SharePoint.
Automatically create a task to review new documents emailed by the client.
When anyone adds a PDF file to the SharePoint portal, parse it with Docparser.
Automatically organize contract and business documents in SharePoint Online.
The most important thing is creating various automated business process models on Power Automate is easy, fun, and intuitive. Additionally, it is a low-code and no-code platform. Hence, anyone from an IT professional to a basic business user can create actionable and functional automated processes using Power Automate.
SharePoint work flow Vs Microsoft Power automate
Power Automate will rule and survive in the future. Because SharePoint Designer Workflows are only for the SharePoint environment. But, Power Automate flows are compatible across various Microsoft 365 apps. Also, the availability of third-party connectors makes Power Automate flows relevant for external apps like Google Docs, Calendar, etc.
Hence, move your classic SharePoint workflows to Power Automate. Also, you have to create new automated workflows on Power Automated regardless of the temporary availability of SharePoint Designer Workflows 2013.
It will enable you to manage the approval or processes or documents across several business apps like SharePoint, Salesforce, Dynamics 365, OneDrive for Business, Zendesk, WordPress, Gmail, Google Drive, Webex, etc.
Power Automate flow authoring process is more intuitive and easier than SharePoint Workflows 2013 or 2010. Since Microsoft has developed Power Automate as a no-code tool, your employees can easily develop useful flows themselves without any programming knowledge.
Thus, you will not have to invest specifically in hiring a full-time IT professional to look after automation. Instead, you can get professional Power Automate flows development services from veteran SharePoint consulting firms like Al-Rafay Consulting and put the automation process on auto-pilot.
Why Do you need to migrate to power automate
Microsoft is always working towards the goal of a modern workplace of unified business app experiences with Microsoft 365 and Microsoft Teams. It is clearly evident from its step to go all-in on Power Automate and shut down legacy automation builders like SharePoint Designer Workflows 2013 and 2010.
Also, Power Automate integrates seamlessly with the Microsoft Azure cloud computing environment. Hence, instead of upgrading classic SharePoint Workflows like the 2013 or 2010 versions, it is focusing its resources on Power Automate.
If you're using SharePoint Online with classic workflows, you need to act now and migrate business workflows to Power Automate and avoid operations downtime. Though SharePoint Workflows 2013 is there for while, it will not be supported past November 2026. So, it is wise to plan the move now than later.
Apart from the obligation to move due to Microsoft's decision to end support, you are also getting more actions and services that were not available in classic workflows.
Hurdles in the path of power automate transition
Power Automate workflows are for sure superior to classic SharePoint workflows. However, Microsoft has identified the following issues when you move classic workflows to Power Automate:
Requires premium licensed account for HTTP connectors if your workflow uses extensive HTTP calls.
Power Automate flows can only run for 30 days.
Power Automate stores the history of flows in a unified dashboard. You will need custom development if you require list-based tracking.
Power Automate flows do not come with an impersonation step to view workflows as a different user. Again, you need custom development.
With the aforementioned barriers of SharePoint Workflows to Power Automate transition in mind, you will need customized Power Automate services to overcome the hurdles. Al-Rafay Consulting has extensive experience in catering to such custom flow development for Power Automate which can also benefit your business.
al-rafay consulting: Power automate marvels at work
When you modernize your SharePoint intranet portals, you boost the collaboration, security, and productivity of your teams working with SharePoint document management systems. One of the vital parts of this modernization process is developing Power Automate flows instead of SharePoint Workflows.
Power Automate workflows integrate well with most of the Microsoft 365 apps required for your business operations. Thus, transitioning your business workflows with Power Automate will offer a more fluid, seamless, and interconnected experience for SharePoint users.
It is noteworthy that transitioning from classic SharePoint Workflows to modern Power Automate flows is a challenging and daunting task. The transition has the potential to disrupt business operations if handled in-house. Thus, Al-Rafay Consulting has developed a standby task force of SharePoint and Power Automate experts to assist you with the SharePoint Workflow modernization process.