Using the pre-designed templates of the SharePoint look book, you can add a unique look to your sites without much effort.
Now, it is possible to get professional and creative looking sites on your SharePoint even without coding. All you need to do is pick a suitable template from the Microsoft SharePoint look book as per the requirements of your SharePoint Online site.
This article will shed light on all the basic things you should know about Sharepoint look book including its installation method, pros and cons, types, and best practices of using look book templates.
What Is SharePoint Look Book?
SharePoint look book refers to a collection of downloadable templates developed and hosted by Microsoft. You can choose any template you prefer before downloading and installing it in your environment.
As far as the look and feel of your SharePoint sites are concerned, look book can provide you with some useful ideas through its templates. If you are a new SharePoint user looking for some workable templates or an experienced one who wants to revamp your sites, look no further than the SharePoint look book.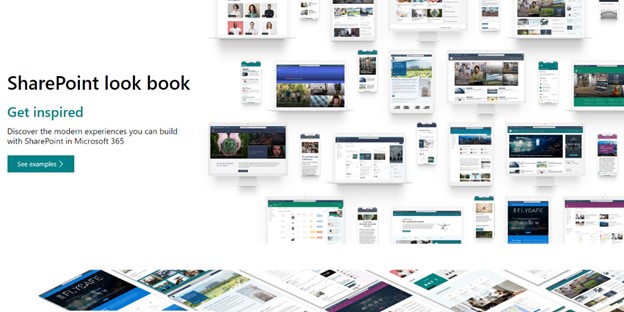 In every template of the look book, you will see a breakdown of used web parts and settings that have been configured.
This design gallery is beneficial for:
Creating sites and pages quickly
Demonstrating an interactive Sharepoint prototype to others
Learning and practicing SharePoint sites
Choosing a new SharePoint site for the beginners
Hence, businesses are reinventing and reimagining their intranet sites with the SharePoint look book. You also need to consider transforming your SharePoint tenant with look book experiences that offer swift communication, collaboration, knowledge management, and engagement.
The Experiences Available on SharePoint Look Book
It introduces you to modern SharePoint site experiences that get your job done. Besides that, look book site templates are faster when compared with conventional intranets and more beautiful too. Moreover, look book sites are responsive web pages so that they adjust to the device screen automatically.
You will get some most common page templates in the SharePoint look book. These include templates for landing pages, news sites, onboarding sites, communication sites, learning and training sites, department sites, document management sites, workplace engagement sites, marketing, product support, sales, HR management, retail store, and many more.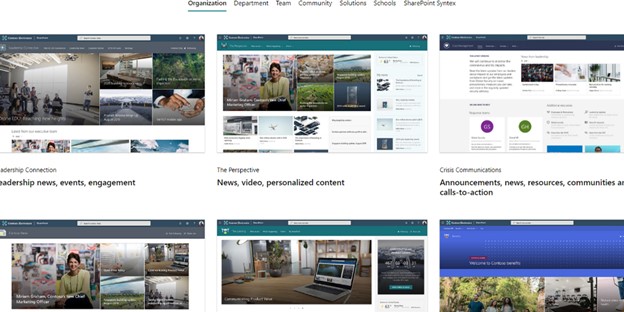 You can use these templates for corporate enterprises, non-profit organizations, NGOs, local and national communities, retail companies, educational and training institutes.
In addition to showcasing some professional and cool-looking SharePoint site experiences, the portal also gives you complete information on the template site. You will see the site design name and use cases in the preview mode.
When you choose a site for further examination, you will find a short description offering detailed functionalities and features of it. As
you scroll down you will see the technical details of the template. These are as follows:
Site features tells you the functionalities you can expect from this template. For example, Custom company theme, Mega Menu, Section background, Custom company theme, Custom site logo, Footer, and so on. The site features will change depending on the look book experience that you select.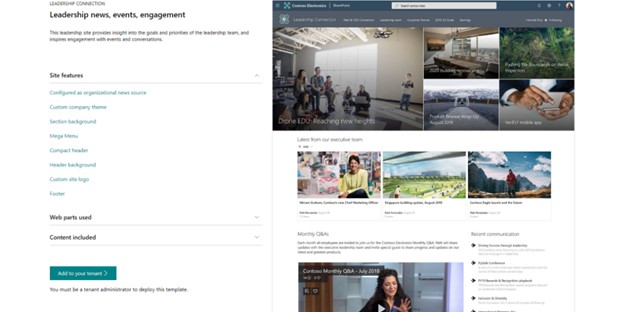 It mentions the web parts that Microsoft has used to build the site. For example, Hero, News, Stream, Text, Yammer, Events, Quick Links, etc. Similar to the site features, web parts will also vary with different SharePoint look book examples.
This segment will let you know about the content that the template will automatically inject if you apply it to your SharePoint tenant. It assists you to avoid some unusual surprises when you apply any SharePoint template to your intranet site.
How to Access, Browse, and Install Look Book Templates
Users can access the SharePoint look book by visiting the Microsoft SharePoint look book portal. There, you will see a set of templates sorted according to various categories. Select any tab like Organization, Department, Team, Communication, Solutions to browse through corresponding templates.
After you find a template, you want to use, proceed to use it. To install the SharePoint, look book template, you have to follow these steps:
While browsing through the templates from any tab, click on the template you like and want to apply.
The next screen will show the description of the template. Click on Add to your tenant button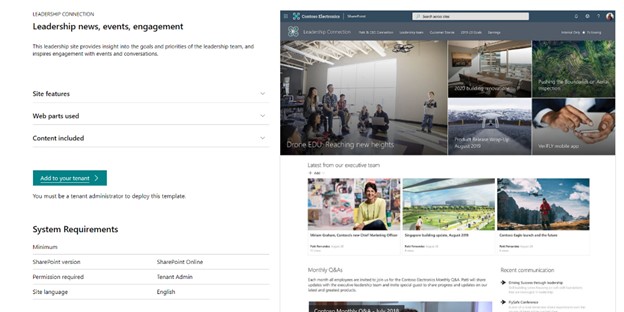 If you have not signed into your Office 365 account, you need to log in at this .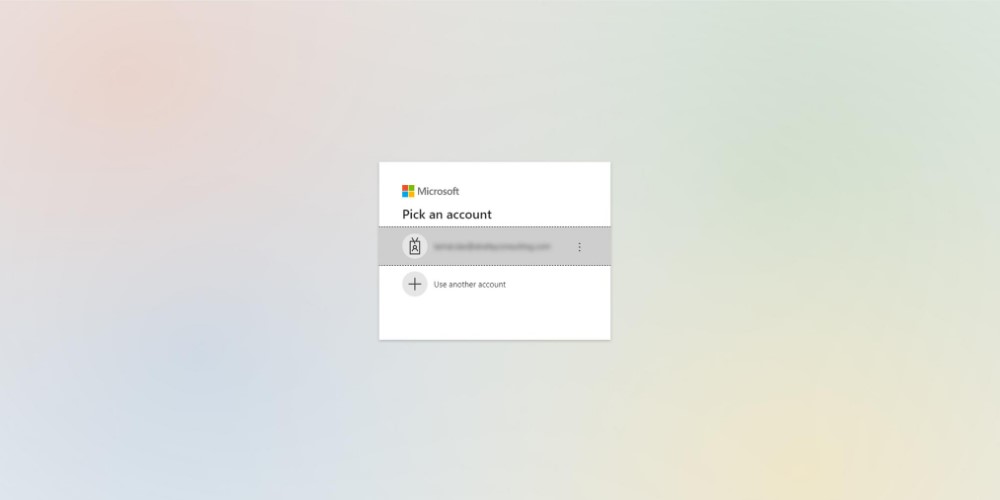 Now, you will notice your email, site title, and URL on the right side of the screen. You can customize the last two options at this stage or even later after you complete creating the site. Click on Provision to move to the next page.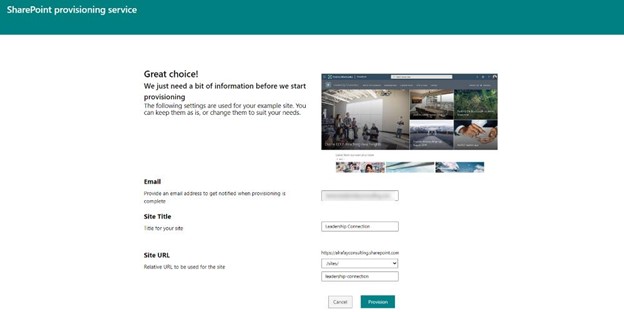 On the next page, you will see the list of things that will get provisioned. Click on Confirm button.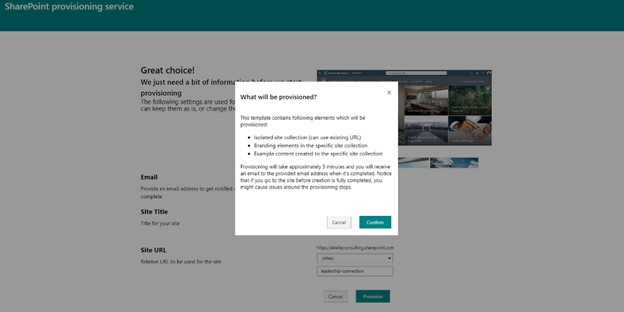 It will take around 5 to 10 minutes to create a site with the look book template. Once done, your tenant can view and access the site. SharePoint will also send you an email regarding the site completion.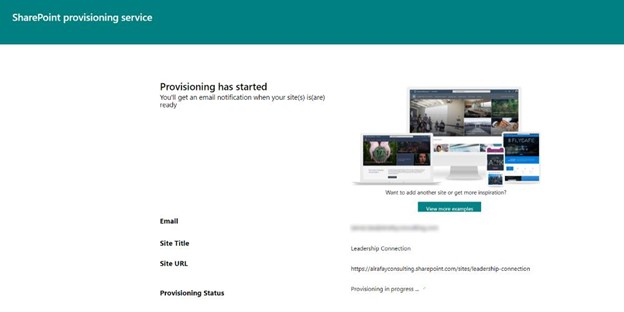 It is quite easy to apply a look book experience to your existing SharePoint tenant. However, you will need SharePoint farm administrator rights to install any look book templates.
Things to Consider While Using Look Book
While installing the SharePoint look book template is easy, you need to remember a few things about using this feature:
Installing a look book template means getting a new site on SharePoint with that template. Each of these sites will need extensive access permission for the other to use its content. Therefore, you should set necessary permission for each site so they can be beneficial.
A new site template contains various demo content. Whether it is a report, diagram, documents, sheets presentations, and tasks, you should remove the sample content and provide original and relevant material replacing those. Otherwise, users might find them in search results and start referring to them.
Certain look book templates contain several sample pages that you would want to remove as well. Keeping these pages means there will be a chance for employees to find and follow them deeming reliable content.
4. Remove Unnecessary Sites
Each time you try a template, SharePoint creates a new site with that. After you finalize a template for your site, it is wise to delete other sites that contain the templates you tested but did not select. Deleting unnecessary sites will ensure your employees do not get confused about the real site.
Pros and Cons of SharePoint Look Book
Before choosing to use the templates, organizations should be aware of the advantages and disadvantages of the SharePoint look book.
You can enjoy the following benefits by using the SharePoint look book.
If you are looking for some SharePoint attributes that are easy to install, the look book is your go-to feature. Making a page from the beginning is a time-taking task, but installing look book in your SharePoint tenants will take only a few minutes.
Installing look book template is a no-code task—anyone with required permissions can do it without any coding experience. It does not need any customization as the template is enough to create a stunning site. Users can try this for practicing SharePoint skills.
3. Easy Displaying to the Teammates
If you are training a SharePoint team, it is always better to demonstrate with some real-life examples instead of stock images. This is where the SharePoint look book comes in handy. These are some working examples you can show your colleagues.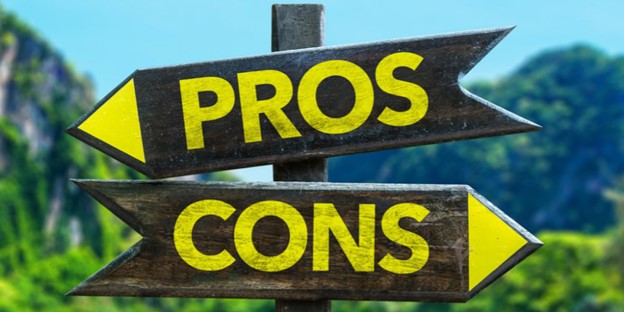 deployment of these SharePoint look book templates also has some limitations. First off, the customization possibilities are limited for all the SharePoint look book templates. Thus, if your SharePoint tenant site has complex and high-level customizations, look book templates may not accommodate those.
Apart from SharePoint site customizations, the followings are the additional drawbacks that you need to keep in mind:
When it comes to branding, look book templates offer only limited options. Due to fixed color combinations, businesses cannot personalize the site and page colors according to the company and brand identity.
2. Needs Global Admin Access
Only SharePoint Admin can install these templates. The rest of the users can not directly deploy these and need to ask the global admin to add a template on the sites.
SharePoint look book modern site experiences are only compatible with SharePoint Online tenancy. Thus, if you are still using SharePoint Onsite, you will need to perform SharePoint migration to Office 365 to utilize the look book templates.
Al Rafay Consulting (ARC) Improves Your Intranet Experience
While the SharePoint look book works as an inventory of templates for SharePoint sites, the templates might look mundane as you cannot customize them. To resolve this issue, you can take help from Al Rafay Consulting.
We can create customized SharePoint site templates for your organization that match your brand identity and color. These SharePoint custom development will help your team to be more focused and productive.
You can consult our team of experts and convey your requirements about the look of your SharePoint site. We will create a site template on the basis of your needs so that it looks more professional and make your tasks or workflows easier to execute.