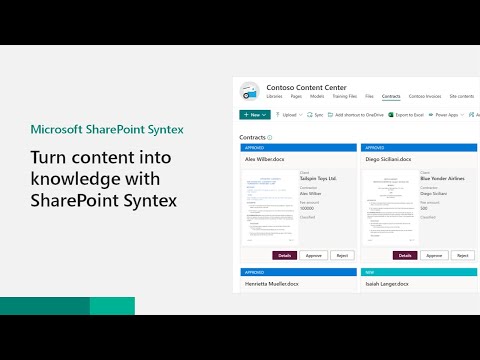 Companies are constantly looking for solutions that can automate various tasks, content management, and transform unstructured data into valuable knowledge. Most businesses require a unified business solution for file retrieval and digital asset management.
Microsoft has developed content categorization automation to help enterprises build a structure for knowledge curation. Microsoft SharePoint Syntex accomplishes this by flawlessly transforming data into knowledge.
.
Challenge of Managing Information of Critical Documents
Any business that needs to efficiently use the information stored in its documents faces a challenge with digital asset management.
For instance, a mortgage brokerage reviews thousands of documents each month, such as contracts, forms, billing statements, and tax returns. They require an automated system that quickly classifies the various document types while accurately extracting critical information for their employees to analyze.
Microsoft is driving innovation in its software to fulfill the demands of businesses, and the latest innovation from the technology powerhouse is SharePoint Syntex. It is Microsoft's latest edition of SharePoint, and it takes the benefits of SharePoint development to the next level. SharePoint Syntex development arose from the most recent Microsoft 365 project, Project Cortex and it is the first piece of software to emerge from Project Cortex.
On October 1, 2020, Microsoft stated, 
"Today, Microsoft announced the general availability of Microsoft SharePoint Syntex as of October 1, 2020. This is the first packaged product to come out of the code-name Project Cortex initiative first announced in November 2019."
SharePoint Syntex - Machine Learning and Artificial Intelligence for Content Management
SharePoint Syntex gathers information from content using advanced AI capabilities and machine learning, then creates and applies metadata to a SharePoint Library. The solution's goal is to "extend human expertise, automate content processing, and transform content into knowledge." It provides intelligent content services that function in the same way you do."
The use of models is the method by which content is transformed into knowledge. Syntex quickly categorizes and classifies documents based on the user-defined models, and then extracts specific data. It can also apply retention and sensitivity labels automatically to help protect sensitive information.
SharePoint Syntex users create content insight models that classify documents hosted in SharePoint libraries automatically. Data can be retrieved from documents and displayed as columns in SharePoint document libraries by training the model with example files.
It could be a useful addition to your company, saving you time and money while converting your files from passive documents to insightful knowledge.

How Does SharePoint Syntex Work?
It extracts knowledge from existing documents using machine learning and artificial intelligence (AI). For unstructured documents, document comprehension is used.
SharePoint Syntex has two main roles document comprehension and forms processing. These functions convert your existing content into knowledge. In this section, we will go over each of these roles in greater detail:
Document Understanding Framework
The document understanding model processes unstructured documents where the information is contained in blocks of text. The model uses machine learning techniques to train your model to classify and extract documents by using a small unlabeled teaching set of files. The model's interface also tests its effectiveness to make changes on the go.
Unstructured documents typically contain a lot of text, and the information that needs to be captured could be contained within sentences. Using document understanding, information can be identified and extracted from within a document, even if the data is part of a larger body of text.
Form processing frameworks manage structured and semi-structured documents, such as forms, in which the data is typically in the same location throughout the document. Form processing makes use of AI Builder, a Power Platform functionality, to automate metadata extraction. With AI Builder, you create and develop a model to extract the information, which Syntex then references with a Power Automate flow and runs on newly uploaded files to a specific library.
You can train SharePoint Syntex to recognize and capture parts of a structured document, such as an invoice. If you want to see specific data from each of your invoice files, the Form Processing function can help you do so quickly.
How Can SharePoint Syntex Benefit Your Enterprise?
Here are some of the advantages of using SharePoint Syntex for your business:
You will be able to quickly access meaningful data without having to sift through hundreds of files.
SharePoint Syntex will assist you in saving time and increasing productivity.
Tasks that were initially labor-intensive can now be completed quickly and easily, freeing up your employees' time to focus on other tasks.
SharePoint Syntex will assist you to scale your business.
There is no need to spend hours searching for the data you require; instead, use SharePoint Syntex to extract the insights you require quickly, enabling you to make sound business decisions quickly.
Metadata can be automatically applied to your documents without the need for coding.
Microsoft SharePoint development along with Syntex benefits businesses by advancing artificial intelligence (AI) and machine learning to enhance human experiences. The service enhances content management by adding value and automating content processing to retrieve the required data. Companies are constantly looking for solutions that can automate various tasks, and we have developed content categorization automation to help them build a substructure for knowledge curation.
At Al Rafay Consulting, you can have end-to-end Microsoft consulting and envelopment services rom the Microsoft certified experts. 
Our expert consultants have developed advance solutions that cater to automate the real estate business processes including, contract management systems, deal tracking software, document management system, and others.